So, you are looking to add a new member to your team? What is the first thing you do? Well, you come up with a job description for the position you are hiring for. Then what? You post it to a job board, maybe to social media, you call an employment agency, or even put it on Craigslist (depending on your company's budget). Then, you eagerly await for the flood of applications to fill your inbox.
But what happens when you hear nothing but crickets? Are candidates not looking for jobs?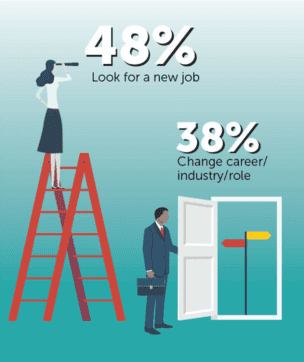 Actually, "nearly half of employed U.S. adults say that they'll likely explore new work opportunities in 2020," according to the American Staffing Association.
Okay, then what is the problem?
It all starts with the first introduction – meaning the job advertisement. Is it appealing to the employee? Does it showcase what makes your company special? Are you including the pay rate and benefits? All of these factors can either make or break your ad and can be the difference between a successful job post and one that gets overlooked.
Well, with a little extra effort (and some coffee) you can compose an enticing job description to bring your business more qualified applicants and assure that you are not turning off talent before they even apply.
START WITH THE PERSONAL
The key to writing an appealing job description is to focus not only on what you are looking for as an employer, but on what is important to an employee. Put yourself in the shoes of the applicant – what would make you want to apply with your company?
The difference is in the writing.
Identify Your Ideal Candidate
Whether you are looking to fill an entry-level manufacturing position or a marketing director opening, you need to identify what qualities are important for each applicant pool.
You want to write a job ad that will drive qualified candidates to fill out your application. In order to do that, the introduction of the ad should be enticing, clear, and concise. Just like news articles on the web, job descriptions are often scanned for a few seconds before the reader decides to keep reading or to move on. This is why the first few sentences, or the "lead," is so important.
What Is In It For The Employee?
Unemployment in the U.S. is at an all-time low, sitting at 3.5 percent, according to the U.S. Department of Labor. This means that the ball is in the employee's court and, for the most part, that you will be trying to convince candidates to change jobs (i.e. the "passive candidate").
Why should they leave their current position to come work for your company? Do you offer a better benefits package? Do you offer remote opportunities? A flexible schedule? Is there an opportunity for growth within the company? Any perks?
In your description make sure to include the benefits and perks that an employee is eligible for at your company. Focus on growth, development, work-life balance, and other benefits that are important. Also, be upfront about the schedule and job duties. Over 63 percent of job seekers say that one of the top factors they look for in a job is salary and benefits, according to a study conducted by Glassdoor. Keep this in mind when you are crafting your ad.
What Makes Your Company Different?
It is recommended to include a few sentence paragraph that summarizes your business and add it to your job posting. Do not simply copy and paste your formal "about us" summary from your website. Instead, make your summary more personal. Include your business's values, mission statement, company culture, and philanthropic endeavors. Think of what sets your company apart from the thousands of others out there. Candidates want to know the culture of your company and how it intertwines with their own personal values.
Be Accessible
*Side Tip*
In this day and age, it is important for all companies to be accessible online. When we are talking about attracting applicants, it is almost a guarantee that they will Google your business and/or look you up on social media, before deciding to apply.
Make sure your company has a social media presence, along with an updated website. Our current workforce includes four vastly different generations. So, how can you appeal to them all?
The key tip is to post where the people are. If your company site has a career page, make sure to add it on there and that it is optimized for the online job boards. If your company has the budget, push the job to Indeed, Monster, or Linkedin. You can also share it on your social media page to reach a different audience. Just remember that different sites have different users, so make sure to do your research.
NOW FOR THE TECHNICAL
As important as the personal aspect of writing a job description is, it is also imperative to focus on the technical. How you should format your ad, how to optimize it to reach more people, and how to make it stand out amongst the rest.
Start With A "Lead"
A lead in writing is the opening hook that draws the reader into a story or a news article. The lead is one of the most important parts in any written piece, and a weak lead will potentially ruin your job's reach.
With job descriptions, the lead is a few sentence paragraph that summarizes the job and why the job seeker should apply. Be sure to be clear and concise, write in the active voice, and address the reader. Consider your audience and the type of professionals you want to apply to your position.
Optimize Your Job Ad
Every day millions of people log on to their computers, go straight to Google, Indeed, or other popular job boards, and type in the title of the job they are looking for. For example, if the job seeker is looking for a clerical position they may search titles like, "administrative assistant," or "data entry clerk." The position titles are more specific depending on the work they are looking for.
That means you should avoid words like "rockstar," "ninja," or similar colorful words in your job title. These types of titles are overrated and can harm your ad rather than help. Instead, try to make your job titles as specific and direct as possible, and employ long-tail keywords if you can.
Even if you are not a Search Engine Optimization expert, the key is to keep the titles simple and clear so job seekers know what they are applying for and the job boards can better recognize your post.
Be Descriptive
Don't simply write a bare-bones description in a small paragraph of 200 words or less. That is a sure-fire way not to attract candidates. Job descriptions ideally should be between 300 – 800 words. What is crucial is to be descriptive and transparent about the position you are hiring for. Include a job summary, list of job responsibilities, requirements, and any other information that is pertinent to the job you are advertising. Keep the job requirements clear and realistic and DO NOT mislead candidates.
Including a salary range could also help to ensure you will get the right applicants to your job. Nothing is worse than wasting precious time interviewing a candidate to only have the offer turned away because of pay. This could save both your company and the candidate time. Posting a salary range could also help to reduce the time spent negotiating.
Get Input From Your Current Employees
Nobody knows the job better than someone who is working it themselves. Once you think you have a good description written out, get a second pair of eyes to review it. Some jobs tend to change over time and may need a little updating in order to reflect the current duties and requirements. If the position is brand new, consult an outside source who currently works in that role so you can be sure that description and requirements are realistic.
Remember that all industries are different, but by investing some extra time and effort into your job descriptions, your company will attract the right candidates while saving wasted time and money.